Maaya Sakamoto is a japanese singer, actress, songwriter and voice-actress who made her debut as a voice actress in 1993 as the voice of Chifuru in two hit anime shows Little Twins and Hitomi Kanzaki in The Vision of Escaflowne. She released her debut single Yakusoku wa Iranai, in collaboration with Yoko Kanno under Victor Entertainment on April 24, 1996.
She is among the more popular voice actresses who have also branched into singing, performing songs in both English and Japanese.
Magic Number is the song performed by Maaya Sakamoto and is used for the Kobato anime in all of it's episodes.
| | |
| --- | --- |
| Name | Maaya Sakamoto |
| Gender | Female |
| Age | 33 |
| Birthday | March 31, 1980 |
| Occupation | Singer, Songwriter, Actress, Voice-Actress |
| Instrument | Guitar, Vocals |
| Years Active | 1988-Present |
| Genres | Pop, Anison |
| Website | www.jvcmusic.co.jp/maaya |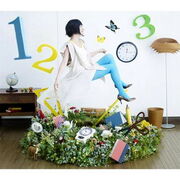 Ad blocker interference detected!
Wikia is a free-to-use site that makes money from advertising. We have a modified experience for viewers using ad blockers

Wikia is not accessible if you've made further modifications. Remove the custom ad blocker rule(s) and the page will load as expected.