Chiho Mihara
Statistics
Series:
Kobato
Gender:
Female
Age:
11-12
Birthday:
Unknown
Background/Alliance Information
Other name:
Relations:
Chitose Mihara (mother)
Chise Mihara (twin sister)
Residence
Unknown
Current Status:
Alive
Powers
None
Appearances
Physical Traits:
brown eyes
First Appearance(Manga):
Chapter
First Appearance(Anime)
Episode
Last Appearance(Manga):
Chapter
Last Appearance(Anime)
Episode 24
Voice Actors
Japanese:
Megumi Nakajima
English
None
Mihara Chiho (三原 千帆) is the daughter of Chitose Mihara and twin sister of Chise Mihara.
Appearance
Edit
Just like her sister, Chise has long blond hair reaching to her knees, with two pigtails at the front. She has brown eyes. In the anime, she is only seen wearing dresses in white and black. In contrast to Chise, her dresses have a white background colour with black details.
Personality
Edit
Both are cheerful, curious and fond of animals. They live with their mother Chitose, their father and attend a local school.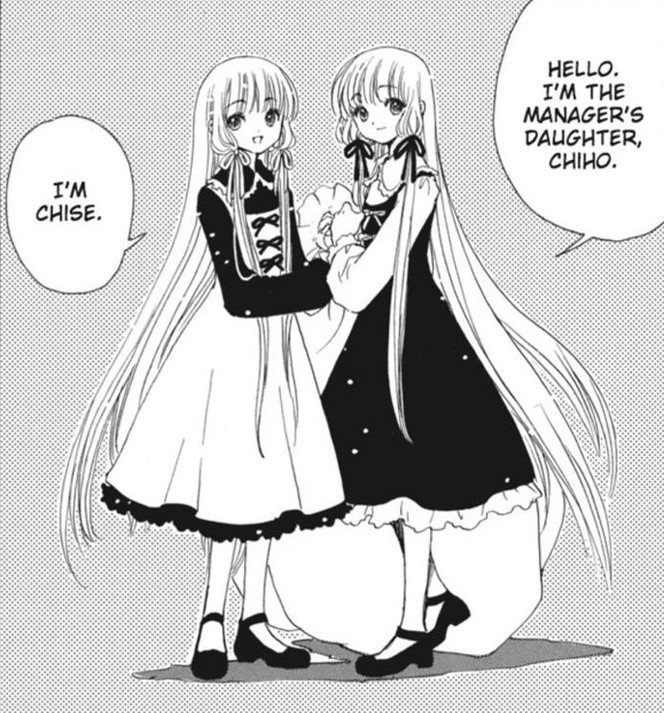 She is also supposed to be the alternate version of Chii from CLAMP'S Chobits.
Ad blocker interference detected!
Wikia is a free-to-use site that makes money from advertising. We have a modified experience for viewers using ad blockers

Wikia is not accessible if you've made further modifications. Remove the custom ad blocker rule(s) and the page will load as expected.